Basic T-Shirts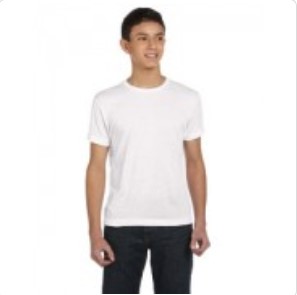 T-shirts are never going out of style. It's that simple! Whether it's a casual workday, a weekend trip, or a night out, t-shirts have made their way into virtually everyone's life. They've become an ageless staple in everyday fashion, and many celebrities have even rocked shirts to work. So what makes them so great? Aside from being extremely comfortable and the ability to dress them up and down as needed, t-shirts are also super versatile. You can print just about anything on a t-shirt which makes them a perfect creative outlet.
Brands, bands, and sports teams have their own custom t-shirts for fans to wear. Designers from around the world are also able to bring their own unique designs and style to life on a t-shirt. In addition to that, t-shirts are also used as part of volunteer events, business gatherings, groups, teams, and so much more. Again, they're everywhere!
That's why Basic T-Shirts are in such high demand. No matter what you want printed a t-shirt, basic t-shirts are certainly the go-to option for many people. Maybe your volunteers want to wear your organization's logo loud and proud, or perhaps your next business event needs a touch of casual branding to it. Whatever it is, Basic T-Shirts are the way to go for both cost-effectiveness and versatility.
But, the cost of Basic T-Shirts can still add up if you don't find the right supplier. In order to stretch your budget, you need to find a supplier who can offer you wholesale pricing rather than retail pricing. Wholesale pricing means you can save up to 70%, and if you order in bulk, you can even get a bulk discount on top of your wholesale discount! Imagine what you can do with all of the extra savings.
One more thing, when you're placing your order, be sure to mention you preference of size, style, brand, fit, color, and material because all these things will get you the perfect shirt you desire.
With your mind made up, you can now find basic t-Shirts to fit just about any project you have in mind--and you'll even be able to save money with wholesale pricing!
For further questions, call E-Z Connection
now at (773) 856-5350.
Recent Posts
IR Hoodies—Are they Worth the buy?What are IR hoodies? Large Companies like Gildan and Anvil have r …

Basic T-ShirtsT-shirts are never going out of style. It's that simple! Whether it's a casual workd …

Wholesale Socks ChicagoLooking for a cheap solution for your sock needs? Finding the right supplie …